Lenovo Flex System SI4091 10Gb System Interconnect Module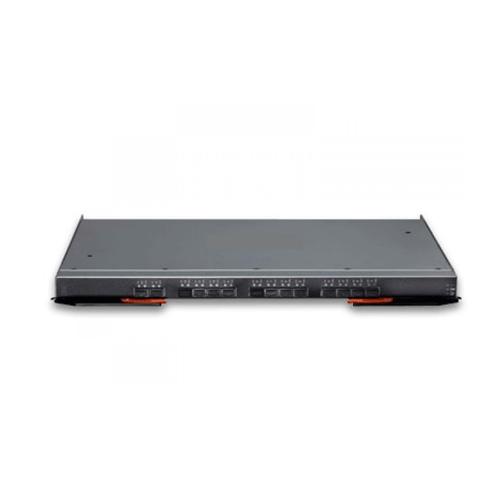 Lenovo Flex System SI4091 10Gb System Interconnect Module Price in Hyderabad
Form factor: Flex System embedded I/O module
Ports:
Internal ports: 14x 10 Gb Ethernet ports
External ports: 10x SFP/SFP+ ports
Media types:(external ports) 10 Gb Ethernet SFP+:
10 GbE short-range (SR) SFP+ transceivers
10 GbE long-range (LR) SFP+ transceivers
10 GbE extended-range (ER) SFP+ transceivers
10 GbE RJ-45 SFP+ transceivers
10 GbE SFP+ active optical cables (AOCs)
10 GbE SFP+ DAC cables
1/10 Gb Ethernet SFP+:
1/10 GbE SX/SR SFP+ transceivers
1 Gb Ethernet SFP:
1 GbE short-wavelength (SX) SFP transceivers
1 GbE long-wavelength (LX) SFP transceivers
1 GbE RJ-45 SFP transceivers
Port speeds:
Internal 10 GbE ports: 1 Gbps or 10 Gbps
10 GbE SFP+ transceivers, DAC cables and AOCs: 10 Gbps
1/10 GbE SFP+ transceivers: 1 Gbps or 10 Gbps
1 GbE SFP transceivers: 1 Gbps
Switching method: Cut-through.
Data traffic types: Unicast, multicast, broadcast.
Software features:
Lenovo Networking OS
Layer 2 switching, virtual local area networks (VLANs), VLAN tagging, link aggregation (trunk) groups (LAGs), Hot Links, Layer 2 failover, Quality of Service (QoS), IPv4/IPv6 management, Converged Enhanced Ethernet, Fibre Channel over Ethernet (FCoE) transit switch operations.
Performance:
Non-blocking architecture with wire-speed forwarding of traffic:
Up to 480 Gbps aggregated throughput
100% line rate performance with sub-microsecond switching latency
Up to 360 Million packets per second (Mpps)
Up to 9,216-byte jumbo frames
Scalability:
MAC address forwarding database entries: 16,000
VLANs: 4,095
Link aggregation groups: 24
Ports in a link aggregation group: 16
Hot-swap parts: SFP/SFP+ transceivers, SFP+ DAC cables.
Management ports: 2x GbE internal ports connected to the chassis management module; 1x 10/100/1000 Mb Ethernet external port (RJ-45); 1x RS-232 external port (Mini-USB).
Management interfaces: Industry standard command line interface (isCLI); SNMP v1 and v3. Optional Lenovo Switch Center. Optional Lenovo XClarity.
Security features: Secure Shell (SSH); Secure FTP (sFTP); user level security; LDAP, RADIUS, and TACACS+ authentication; access control lists (ACLs).
Warranty: One-year customer-replaceable unit limited warranty. When installed in a supported chassis, the module assumes the chassis' base warranty and any warranty service upgrade; warranty includes Networking OS software upgrades.
Mean Time Between Failures: 261,636 hours with ambient operating temperature of 40° C.
Dimensions: Height: 30 mm (1.2 in.); width: 401 mm (15.8 in.); depth: 317 mm (12.5 in.)
Weight: 3.7 kg (8.1 lb).