Lenovo ThinkSystem DB620S 32Gb FC SAN Switch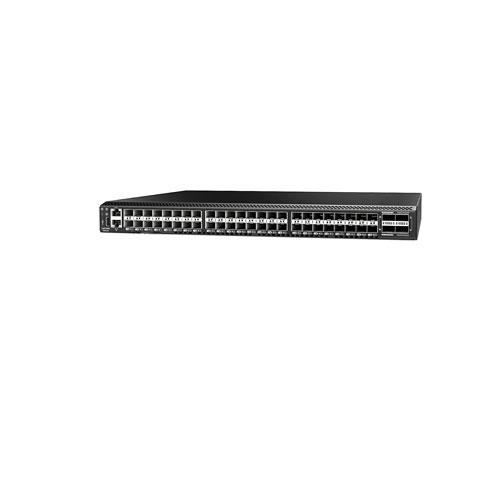 Lenovo ThinkSystem DB620S 32Gb FC SAN Switch Price in Hyderabad
Provides high scalability in an ultra-dense, 1U switch with 48 SFP+ ports and 4 QSFP+ ports (each QSFP+ port has 4x 32 Gb FC links for 128 Gb FC connectivity between the DB620S FC SAN switches, or it can be broken out to four links to 4/8/16/32 Gbps SWL optics in a server HBA, storage device, or another FC switch, for a total of up to 64 connections) to support high-density server virtualization, cloud architectures, and flash-based storage environments.
Increases performance for demanding workloads with support for 128 Gbps (4x 32 Gbps) and 32 Gbps FC links.
Simplifies end-to-end management by automating repetitive daily management tasks.
Enables "pay-as-you-grow" scalability from single-switch fabric to full-fabric enterprise capabilities with Ports On Demand scalability.
Optimizes fabric behavior and ensure sufficient bandwidth for mission-critical applications with advanced traffic management capabilities and adaptive networking.
Provides proactive, non-intrusive, real-time monitoring and alerting of VM and storage I/O health and performance with VM Insight and IO Insight through integrated network sensors.
Leverages predefined MAPS policies to automatically identify and isolate devices that cause network performance issues.
Offers dual functionality as either a full-fabric SAN switch or as an NPIV-enabled Access Gateway (requires 48 SFP+ ports be licensed) that enhances fabric scalability and simplifies management.
Protects existing device investments with auto-sensing 4, 8, 16, and 32 Gbit/sec capabilities and native operation with Brocade fabrics.
Runs Fabric OS, which delivers distributed intelligence throughout the network and enables a wide range of value-added features.